Well, this blog has gotten a bit dusty, but seeing as the school year is ending any second now (actually, in three days, but whatever), I thought I'd pull it back out and give this whole creativity thing a whirl. And I actually have an idea for a blogging project that's been fermenting for a couple months now. Hopefully this will keep my brain from atrophying too much during the break.
If you know me at all, you know that I am a
huge
fan of the recently-ended show,
Parks and Recreation
. I didn't know that a TV show could be so simultaneously hilarious, emotionally engaging, and just....goodhearted. Aaron and I started watching it together when we were dating, and soon we referenced our "Pawnee friends" in conversation the same way we would discuss any other mutual friends.
Parks and Rec
has been, literally, the most influential TV show of my life.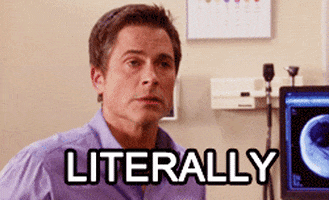 All right, so, the project! In the final season of
Parks
, Andy Dwyer, the series' lovable buffoon, has created a children's TV show called
The Johnny Karate Super Awesome Musical Explosion Show!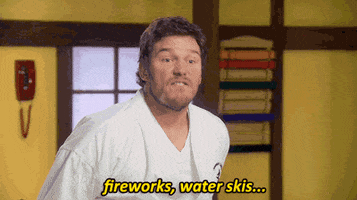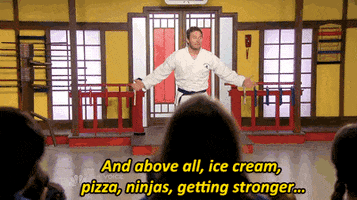 Johnny Karate
is absolutely ridiculous, and it also possibly contains the key to a fulfilling life. Johnny's Five Karate Moves to Success are, in order:
1) Make Something
2) Learn Something
3) Karate-chop Something
4) Try Something New, Even if it's Scary to You
5) Be Nice to Someone
Each of these five steps has its own segment on the show. What I want to know is, how would my life change if I implemented these steps? Would I become a smarter, kinder, more fulfilled, happier person? Would I become a space ninja from Mars? Would I be disappointed in myself for taking life advice from a fictional children's television program?
Only one way to find out.
This summer, I'll be posting every Tuesday with the ways I have used the Five Karate Moves to Success this week (and yes, there will be pictures of karate-chopping stuff). I invite anybody who is interested to join me in this challenge, and keep me posted on how it goes for you.
Remember, kids:
Well, it's time for us to go, but I want you all to know
That karate's not about fighting,
It's about knowing who you are,A
nd being kind and honest while you're kicking for the stars.
Yeah, that's the Johnny Karate way!